Brooks Stair lifts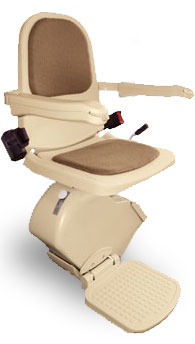 Brooks Stair lifts are built to last, with low maintenance and high reliability. They run on maintenance free DC Power packs, which are automatically recharged at the end of every trip. So even if there is a power cut the Brooks Stair lift glides smoothly to its destination.
Safe and Easy
Soft start and stop system - no sudden jolts
Easy to use joystick control
Remote control system - means no messy wiring
Low voltage operation - eliminates risk of shock
Electromechanical braking with failsafe overspeed governor
Delivered fast - delivered in days, fitted in an hour
Guarantees and Warranties
Your Brooks Lincoln Stair lift is guaranteed for a period of 12 months from the installation date. The guarantee covers you for all mechanical failures through defects in manufacture.
If you have any questions that you would like to investigate further, see our Questions page to see if it has already been answered.
---
Features
Want to know more about
the Brooks Lincoln?
Technical specification
Want to know if your new stair lift will fit or has sufficent power...